All materials on this site © PAR Electronics, Inc.
---
PAR Electronics, Inc.
P.O Box 645
Glenville, NC 28736
Voice: 828-743-1338
Fax: 866-304-8479
---
Email us
if you have questions or comments about this site.
---
Site by
Pinnacle Web Design
Scanner Antenna
How The Antenna Works
At VHF HI, the center tube functions as a broad band 1/4 wave radiator. The 2 horizontal tubes decouple the radiator from the feedline and act as a counterpoise. Even though there are only 2 counterpoises, modeling and range tests show the antenna has an excellent omni pattern. On UHF and 800 MHz the 2 shorter radiators function as full size quarter wave radiators. Through proper spacing and selection of the radiator diameters, excellent coupling and a low V.S.W.R. are obtained. The trap associated with the main radiator effectively isolates the main radiator making it invisible to the 800 MHz energy—thus realizing full gain and a low takeoff angle. Even though the antenna is not resonant at VHF-LO, the series feed arrangement allows the antenna to function in this band with reasonable efficiency.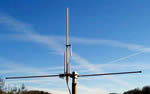 MON-3