All materials on this site © PAR Electronics, Inc.
---
PAR Electronics, Inc.
P.O Box 645
Glenville, NC 28736
Voice: 828-743-1338
Fax: 866-304-8479
---
Email us
if you have questions or comments about this site.
---
Site by
Pinnacle Web Design
HF END-FEDZ
PAR EndFedz are now being manufactured exclusively by LNR Precision. Please contact them for pricing/availability.
On August 2, 2010 LNR Precision, Inc. acquired the popular EndFedz line of amateur and SWL antennas. Larry, AE4LD, is the new owner. Larry is a talented machinist, active amateur, QRPer and will be far better equipped to manufacture and expand the EndFedz line of antennas. In recent years, PAR has had to resort to only accepting orders in 1 week windows in order to better balance their growing commercial segment and the amateur products. LNR Precision will have much larger manufacturing capabilities and thus amateurs will benefit from much faster order filling. Dale W4OP will be staying on to complete new designs and offering technical assistance to LNR Precision. Amateurs can expect new novel EndFedz models in the near future.
I wish to thank the many thousands of amateurs who have bought EndFedz and whom I think of as friends. I will continue to design/manufacture both commercial and amateur filters and expand our line of commercial and amateur VHF/UHF antenna products and hopefully some really interesting surface mount accessories for HF rigs. You may contact Larry at controlliner@embarqmail.com.
---
The Par End-Fedz are a full length half wave dipoles, but with an important difference. The coax connector is at one end of the dipole, where it is most needed. These antennas can be mounted horizontally, vertically or as a sloper. No ground plane or counterpoise is needed. Portable operation could not be easier. Simply hang the far end from a tree limb–the coax is at the bottom. Hang it up in a hotel window or string it up in the attic. End insulators are supplied making suspension easy.
The UV resistant ABS plastic housing encloses an efficient matching network allowing the antenna to be fed with common 50 ohm coaxial cable. All hardware is stainless and the SO-239 connector is silver/teflon. The radiator wire is custom made for us in 21 mile runs. It is a #18 gauge stranded copperweld with a tough polyethylene jacket. Breaking strength is 280# and, unlike the vinyl jacket found on the vast majority of antenna wire, the polyethylene jacket is 100% UV stable, very tough and slippery - almost like Teflon®. One end comes with a #10 solder lug making attachment to the matchbox simple and allowing the radiator portion to be replaced if ever necessary. Power rating is a conservative 100 watts. Lightweight (the 20 meter version is only 0.5 pounds), they are ideal for portable work. The all black construction makes them difficult to see.
See videos:
Read the End-Fedz FAQ page.
EHAM Reviews:
http://www.eham.net/reviews/detail/3632
http://www.eham.net/reviews/detail/5105
Hover your mouse pointer over the model name in the table below to see its graph.
END-FEDZ MODELS
MODEL
BAND
1.5: VSWR
LENGTH
POWER HANDLING
EF-40
40M
225kHz@2.1
66'
200W
EF-30
30M
1.5 : 1
45'
200W
EF-10/20/40
10M/20M/40M
500/300/100kHz@2.1
40'
25W
EF-20H
20M
300kHz
33'
300W
EF-20
20M
300kHz
33'
100W
EF-17H
17M
350kHz
28'
300W
EF-17
17M
350kHz
28'
100W
EF-15H
15M
400kHz
22'
300W
EF-15
15M
400kHz
22'
100W
EF-12H
12M
500kHz
15.5'
300W
EF-12
12M
500kHz
17.5'
100W
EF-10H
10M
600kHz
16.5'
300W
EF-10
10M
600kHz
16.5'
100W
EF-6
6M
1.2MHz
9.2'
300W
END-FEDZ SPECS
POWER HANDLING
DEPENDS ON MODEL
CONNECTOR TYPE
SILVER/TEFLON SO-239
RADIATOR
CUSTOM #18 STRANDED COPPERCLAD
RADIATOR COATING
BLACK POLYETHYLENE
HARDWARE
STAINLESS STEEL
POLARITY
DETERMINED BY USER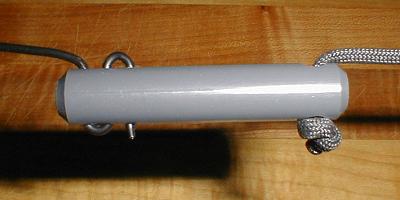 Custom machined self locking end insulator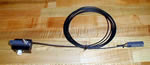 EF-20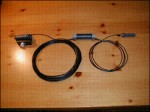 EF-10-20-40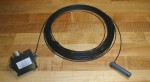 EF-40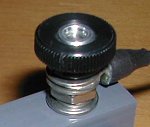 NO TOOLS THUMB NUT
FOR EF-10/20/40