All materials on this site © PAR Electronics, Inc.
---
PAR Electronics, Inc.
P.O Box 645
Glenville, NC 28736
Voice: 828-743-1338
Fax: 866-304-8479
---
Email us
if you have questions or comments about this site.
---
Site by
Pinnacle Web Design
Marine Filters
The VHF-DN153 MAR is a 2 pole asymmetrical notch filter aimed at reducing or eliminating intermodulation products from the near by pager spectrum. Pager interference has been a major impediment to VHF marine communications. This is a result of the pager transmitter frequency assignments, high ERP and high duty cycle.
The VHF-DN153 MAR places approximately a -45dB notch in the 152-153 MHz pager spectrum while having an insertion loss in the marine band of approximately -0.5dB
A similar filter, VHF-DN158 MAR is available for targeting the pagers in the 158 pager spectrum.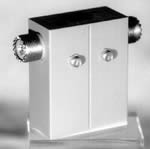 VHF-DN153MAR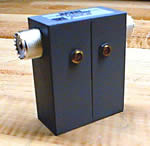 VHF-DN158MAR