All materials on this site © PAR Electronics, Inc.
---
PAR Electronics, Inc.
P.O Box 645
Glenville, NC 28736
Voice: 828-743-1338
Fax: 866-304-8479
---
Email us
if you have questions or comments about this site.
---
Site by
Pinnacle Web Design
Scanner-Bandpass Filters
Our bandpass series of filters are designed to shape the spectrum for specific band segments. These filters feature very fast rolloff to significantly attenuate signals outside the desired passband.
The VHFBP(116-134)HT is designed to pass the aero band while attenuating the commercial FM broadcast band, VHFLO TV and lower frequencies right down to DC.
On the upper end of the passband, the filter offers significant attenuation of the 2M amateur band, pagers, 2 way radio, NOAA weather, VHF and UHF digital television and all other transmitters up through 1GHz.
Compare our filter to the AOR aeroband filter.
Note that our insertion loss is typically 3dB less in the passband and that our stopband loss is much higher - particularly in the troublesome commercial FM broadcast band- the major offender to aero band monitoring.
The UHFBP(225-400) utilizes an overlapping low pass and high pass filter topology to yield exremely low insertion loss in the milcom spectrum while providing significant attenuation to signals both above and below this band; including VHF and UHF digital television, pagers, cell phone, FM broadcast, 2 way users.
VHFBP(116-137)HT Specifications & Plot
| | |
| --- | --- |
| Dimensions (HxWxD): | 2 X 2½ X ¾ |
| Passband: | 116 - 137MHz |
| Stop Band: | DC-110MHz and 140MHz to 1GHz |
| Standard Connector: | M/F gold/Teflon BNC |
| Connector Options: | F/F SMA F/F type N for $10 |
| DC Passive: | No |
| Housing: | Brass |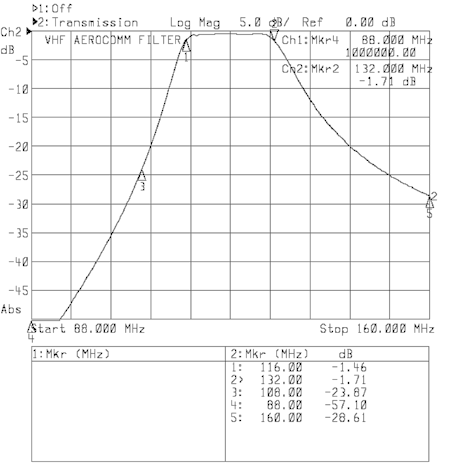 UHFBP(225-400) Specifications & Plot
| | |
| --- | --- |
| Dimensions (HxWxD): | 2¼ X 2½ X 1.4 |
| Passband: | 225 - 400MHz |
| Stop Band: | DC-210MHz and 410MHz to 1GHz |
| Standard Connector: | F/F gold/Teflon BNC |
| Connector Options: | F/F SMA F/F type N for $10 |
| DC Passive: | No |
| Housing: | Die Cast Aluminum |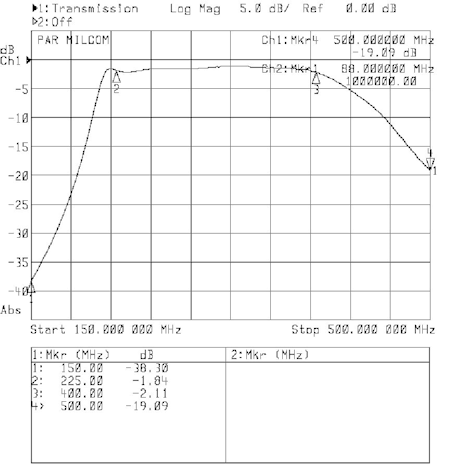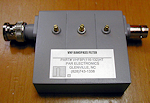 Scanner-Bandpass Filter
VHFBP(116-137)HT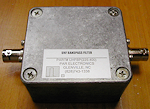 UHFBP(225-400)